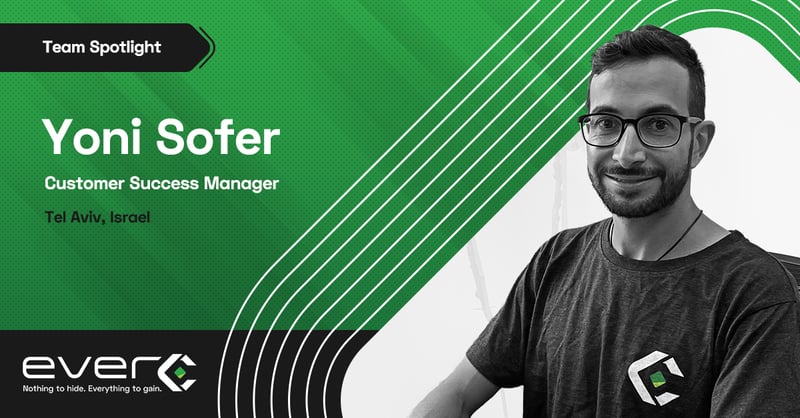 Have you met… Yoni Sofer, our Customer Success Manager and beach lover who has helped save lives?

No!? Well, let's fix that right away. We asked Yoni a few questions so that you can get to know and love him just like we do. Let's go!

1. Tell us about your career background and areas of expertise.
With both my parents being importers and retailers, I started off my business career very young. My work has taken me through much of the business realm and my post-studies experience ranges from founding a Startup, Biz Dev & Customer Success.
My areas of expertise lie within merchant acquiring in payments (I joined an EU acquirer almost 5 years ago and have never looked back), along with CX (customer experience) that enable me to service our clients on an industry level all the while maintaining high levels of customer satisfaction.

2. What is the most exciting aspect of working at EverC?
Uncovering illicit actors/clean fronts and then consulting our clients on how to action these. This allows me to be part of making a positive outcome and difference in the payments industry, and I love it!

3. What activities are you involved/interested in outside of work?
I spend a lot of time around the sea – surfing, spearfishing, playing beach sports & picking up rubbish both in the water, or, on the sand and strive to live more of an eco-friendly lifestyle.
If I'm not at the beach I'm probably skateboarding, cycling, cooking or reading books on aviation among many other hobbies.

4. What is one thing that you are most proud of?
My startup, Beachers. We created next-gen software for lifeguards to communicate with beach-goers and a benchmark database for beach-goers to get all the info about beaches around the world.
After 2.5 years, the real-time data helped save lives and made users' day at the beach safer & more enjoyable - to the extent that our lifeguard partners asked us to keep our systems up and running even after we closed. The idea that we helped save lives is incredible and I am very proud of the work we have done.

5. What is one random or unique skill that you have?
Well… I can tell if an elephant poses the danger of charging a car. Not sure how handy this skill will be on the beach in Tel Aviv, but growing up in South Africa I've spent time in the bush. You learn how to spot, understand & appreciate animals from the smallest bugs to camouflaged ones (like lions, leopards, cheetahs) through to understanding their behavior. This is one more aspect of nature I am very tuned in to.


Thanks so much Yoni, we are super lucky to have you here! If you're interested in joining the EverC team, check out our career page here.