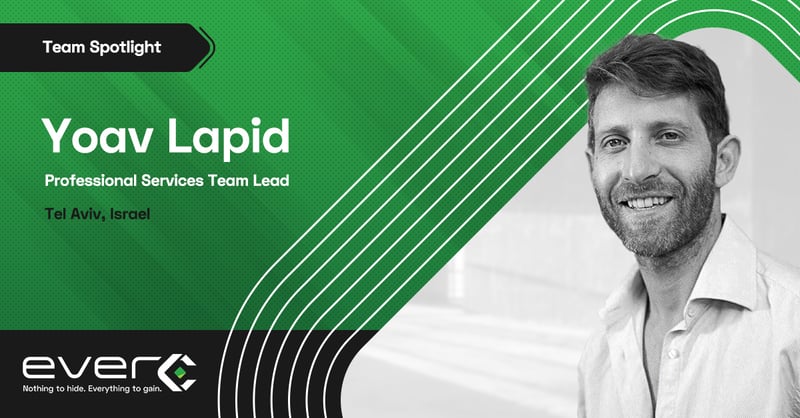 Meet our newest addition to the Professional Services family, Yoav Lapid. Yoav loves the beach, traveling and exploring new worlds. He is an expert in card fraud and joins us with a unique set of skills! Learn more about Yoav and his new adventure at EverC!
What interests you about EverC and why join now?
EverC contains top notch industry professionals. Each domain is being managed by experts who are very dedicated and passioned about what they do. It's a privilege and a great opportunity to work in such environment.
We are about to unleash the potential EverC have, we expect great things and willing to do what it takes to make it happen. Also, EverC gives its employees an opportunity to have a major impact. Timing is everything, I hope 2022 will be the best year here at EverC!
Tell us about your career background and areas of expertise.
I started in the credit card industry, I was a fraud analyst for over two years. I analyzed card transactions in real-time and was required to decide if it's fraudulent or not on the spot (compared to customers card usage profile data).Then I moved to a well-known fintech company, and I continued as a fraud analyst for another 3 years. During that time, I extended my fraud skills and knowledge, met new patterns and different fraud methodologies. I investigated and designed fraud preventions rules with almost 0% false positive rate, and then shifted myself to R&D into a business development role. I was part of a team in which was responsible for the company's rule engines which contained all logics of regulations, KYC, KYB, fraud rules, OFACC, etc. The team was part of every project within the company and in addition, we had a significant part in each project. I learned code methodologies, business understanding, project management, and now today, I continue to see the bigger picture and learn how to work in uncertainty areas.
My main expertise is the ability to identify fraud patterns in card transactions, pointing the relevant indicators and values, design and implement rules, understanding business requirements and translate them into small technical assignments etc.
What is the one thing you love most about your job?
I learn something new every day, I am exposed to new ideas all the time and moreover, the potential of preventing transactions laundering is unlimited – we can do BIG things here at EverC.
What are your hobbies?
I love camping in the desert, there is something special in the energy the desert provides. I also enjoy traveling in the world, see and explore new places. Going to the beach in the summer and just chilling with a beer.
Where is the next place you'd like to travel to?
Hopefully Indonesia – I love beautiful beaches and I heard (and have seen some pictures) that the beaches in Indonesia are more than amazing. Meanwhile, until it happens, I will enjoy Tel Aviv beaches.
Thanks Yoav! we are super lucky and excited to have you here! If you're interested in joining a team like Yoav's, you're in luck - we are hiring! Check out our career page here.