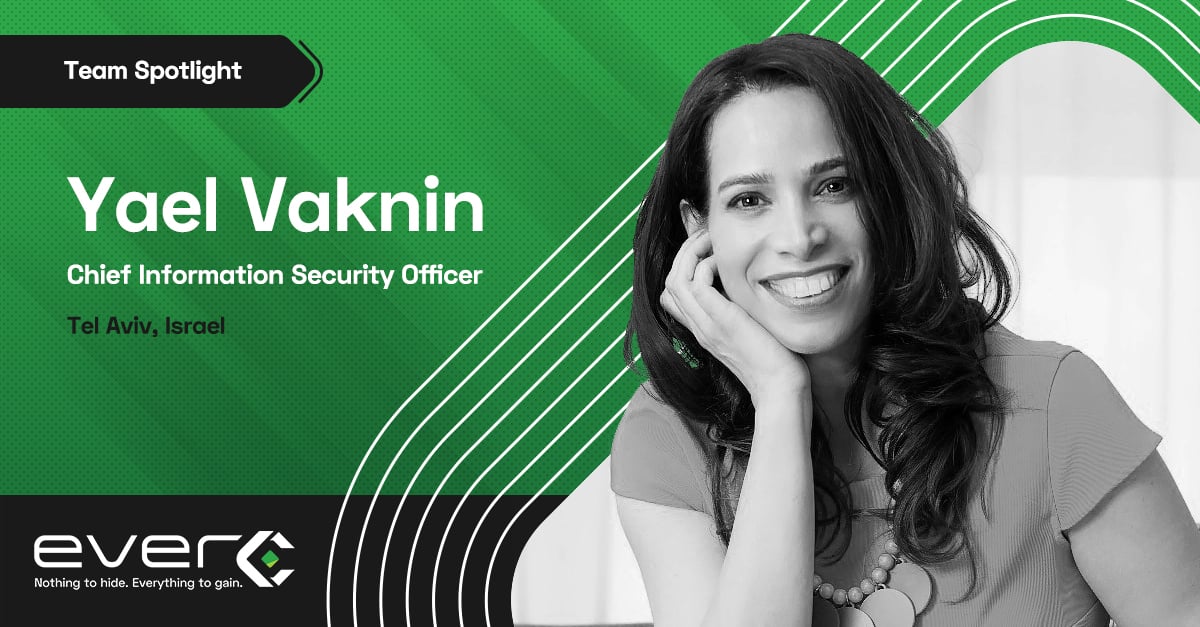 Meet Yael Vaknin, our new Chief Information Security Officer! She's a mother of 4 (all teenagers!) and she loves to dance, explore the History of Art, and also built an amazing career from a combination of economics, finance, and cyber security. We're very happy for her addition to our growing family at EverC.

We asked Yael a few questions so that you can get to know her just like we do!


Tell us about your career background and areas of expertise.
My background has given me a solid business and strategic understanding of the industry, gained from years of experience forming organizational cyber strategic plans in the government, financial institutions, and large corporates - domestic and international. In addition, I served on the Board of Directors at Netivey Ayalon.
My unique experience (finance and cyber) gives me the ability and skill to combine technology and organizational needs which makes me an enabler for achieving business goals.
What is the most exciting aspect of working at EverC?
The talents at EverC are all very enthusiastic and committed to the product and their work. Everyone is extremely professional and passionate about their field of expertise and technology. They all really believe in the added value it brings to society and the world. It's very inspiring to work in this kind of environment. There is a feeling of being part of a community and that really is very enchanting and beautiful about EverC.
What is one random or unique skill that you have? 
One unique skill I have is the the ability to see the "bigger picture" and think outside of the box while driving change within the organization. I come from the financial and economic world. My background did not start with cyber, I studied that later in my career. And so the knowledge and tools I bring with me give me the ability to combine all the worlds together and provides me the opportunity to see things in a broader sense.
What is one thing that you are proud of? 
First and foremost, I'm proud of my family. I have 4 amazing and talented kids and a super talented and supportive husband.
From a professional perspective, I always strive to go the extra mile in every role I serve in, while bringing a broad strategic view based on my differentiated background and experience.
What other activities are you involved/interested in outside of work?
I'm very passionate about dancing, I've been dancing for years all types of dance from flamenco to Irish dancing to modern ballet. Today I mostly dance Zumba during my free time and going to dance concerts.
I also love the History of Art and understanding the "behind the scenes" and getting into the mind of the artist of famous works for art to understand in depth the thought behind a painting and the dynamics between the artist and his surrounding at the time.

Thanks so much Yael, we are super lucky and excited to have you here!
If you're interested in joining the EverC team, check out our career page here.