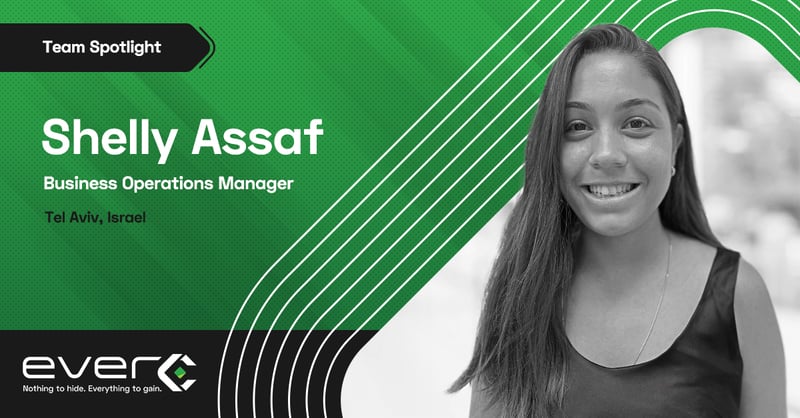 With a big round of applause let's welcome Shelly Assaf, our Business Operations Manager. Shelly is the quintessential combination between being extremely professional and results-driven to being a loveable people's person who motivates her colleagues daily. Want to learn more about Shelly and EverC's mission to change the world for the better? Dive right in!
1. Tell us about your career background and areas of expertise. 
I started my journey six years ago as an R&D and Delivery PMO in Verint. My goal was to significantly contribute to the success of the projects, to provide efficient utilization of the resources, and help my business unit achieve our strategic objectives.
After three amazing years at Verint, I got the opportunity to join EverC (still at the time when it was Evercompliant). At EverC, I established the projects and PoC department under professional services. As part of my role I was collaborating with all departments, from sales to R&D, product and more… delivering almost 100 PoCs and projects. It was a great opportunity to meet people from all departments of the company. In June 2020, I joined EvreC's business operation department to make sure we are ready for our next challenge as a company, and surely, we are!
My work at EverC helps me bring my fortes to the table. I am good at seeing the end goal and getting things done. I'm very analytical and passionate about data, which is great for someone working in high-tech. And I absolutely love working with people and getting them motivated.
2. What is the most exciting aspect of working at EverC?
There are 3 aspects that make my work at EverC super exciting:
First, our mission. EverC is about making e-commerce, and internet as a whole, safer. There are so many wonderful opportunities with this ever-growing online world but with it, there are a lot of challenges and a lot of risks of immoral or illegal activities. EverC works to solve this, and I absolutely love that our mission is to change the world for the better.
Second, our people. As they saying goes – there's no other capital than human capital. EverC has super talented, super passionate and super nice people. We all help and support each other and have a great time.
Lastly, EverC's culture – we are one big family and walking into the office(when we can under COVID guidelines, of course J) always makes me feel like I'm in my second home.
3. If you could have dinner with anyone, dead or alive, who would it be and why?
My grandfather, Abraham. He passed away when I was one year old, so I did not get the chance to know him. I have heard so many stories about him, about how kind and humble he was and how he was never afraid of a challenge. He is remembered as a wonderful father and grandfather who loved his children and grandchildren more than anything. So given the chance, I would definitely choose to sit down for dinner with him.
4. Tell us about a funny experience you recently had
During my last vacation I took a meditation class. Everyone was silent, diving deep within and trying to concentrate. Only I, couldn't stop laughing from the moment it started. This never happened to me before, but something just came over me and I could not stop. Finally, the teacher had to ask me to leave the class. Too bad I missed the class but I had a great laugh!
5. What other activities are you involved/interested in outside of work?
I practice Yoga regularly. I love the continuous improvement and the focus that it brings into my life. I am also a great cook – always preparing new dishes and experimenting in the kitchen. Seeing people enjoy my food brings me lots of joy. Additionally, I am an avid learner, a knowledge-person. I listen to lots and lots of podcasts and read a lot of books.
Thank you Shelly, we are so excited to have you onboard!  If you'd like to join the EverC team, check out our career page here.