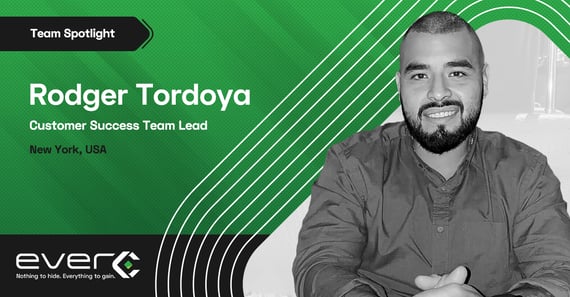 You might not have guessed it at first, but our new Customer Success Team Leader, Rodger Tordoya, has served in the US Marine Corps for 10 years! He brings with him insightful payment industry knowledge and experience.

Join us while we learn more about Rodger and why he joined EverC, his military service, future aspirations, and of course, his beautiful family.

1. What made you want to join EverC?
What made joining EverC an easy decision was the positive impact that regulation technologies leave on the world. Anyone can work for a company and make investors more return, but having our efforts have a positive impact is what gets me out of bed and excited to come to work.

Two things really attracted me about EverC:

1. Our CEO, Ariel Tiger was the nail that closed the deal for me through his enthusiasm, excitement, and vision he has for the company. I knew 15 minutes into the conversation that I could learn, absorb, and have a positive impact on the growing team.

2. Secondly, EverC had great technology and company statement which made the attraction that much stronger.


What interests me about EverC is the positive impact that it has on the world through the implementation of our technology to reduce and fight financial crimes. Our technology has so many applications and we're just beginning to expand and grow. We've been able to do so much with what we currently have, and am excited for what the future has in store for us.




2. Tell us about your career background and areas of expertise.
I worked for a financial technology company which first exposed me to regulated reporting, compliance, and risks of the US banking system. That exposure to Risk & AML programs is where I found my passion for regulation technology software. I spent the last several years helping companies fight financial crimes through the implementation of KYC, AML, and transaction monitoring technologies. I specialized in working with Payment, Neo-Banking, and Cryptocurrency companies.

3. What's the weirdest job you've ever hard?
I'd certainly have to say my weirdest and most beneficial job was my time with the US Marine Corps. There were times where I second-guessed my decision between sleeping in the rain, freezing in a sleeping bag, or training in 120-degree weather. Most beneficial because it has allowed me to endure large amounts of stress, multitask, and am grateful for the long-life friends made through service.

4. Who has influenced you most when it comes to how you approach your work?

For sure my parents who migrated to the US from their countries, worked hard, and did everything possible to provide great opportunities for their children. As a first-generation-born American, I still apply that immigrant mentality of working hard, persevering, and never being afraid to work twice as hard as the person next to you. I applied this mentality to everything I do, between working and going to school full time which allowed me to achieve two Bachelor's degrees: International Criminal Justice & Security Management, and two Master's degrees; Public Administration and Protection Management.

5. What's the best compliment you've ever received?
Prior to my kids, it would have been a military reference, but having my kids express their gratitude for the time shared with them trumps everything. I work hard to give them a better life than I was able to experience and that drives me every day!

6. Lastly, if you could have dinner with anyone (dead or alive) who would it be and why?
Very difficult question, as I'm inspired by many of the greats who are still alive like Warren Buffet, Ray Dalio, and Elon Musk. I'd have to go with Cesar Chavez who was a Mexican American Navy Veteran who moved to California during the Great Depression to become a farmworker. Chavez worked as a Civil Rights leader to establish workers' civil rights, organization and was awarded the Presidential Medal of Freedom.


Thanks so much Rodger, we are super lucky and excited to have you here. We are hiring! Check out our many open positions on our career page here.