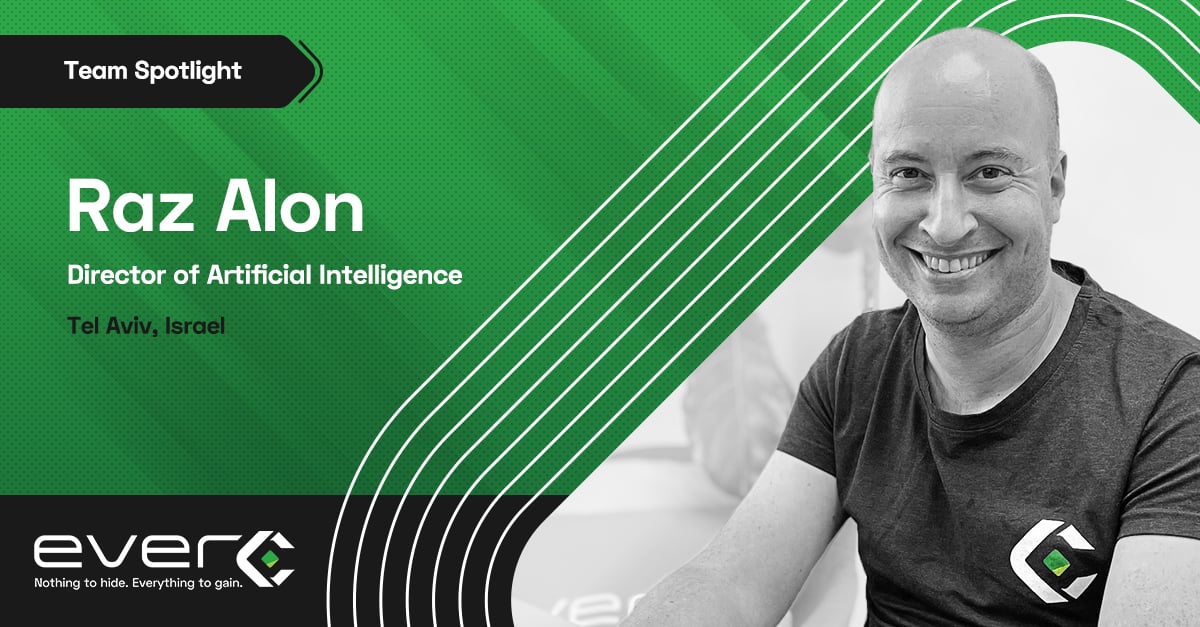 We are committed to building solutions that help our clients scale their business and identify hidden risks in the e-commerce world and providing them with clear immediate insights. Raz is joining our team to build a deeper and more advanced AI solution within the EverC platform. We're excited to have Raz onboard, and we look forward to sharing future product updates!
To share Raz's experience, expertise, and to hear about his rock band "Red and the Baldies" we asked him a few questions.
1. Tell us Raz, how did you end up in AI in the first place?
During my MSc in Physics from Weizmann Institute of science, I built a pocket cosmic radiation detector. It fascinated me, watching the signals that those tiny particles left in my detector, knowing they were coming all the way from the far reaches of the universe and washing over the earth. Amazing. I continued on to my PhD, where I took part in the ATLAS experiment at CERN, Switzerland. This is a cutting edge, international collaboration experiment that seeks to uncover answers to fundamental questions like, what is the universe and what it is made of? To answer these questions, a novel particle accelerator was built 150 meters below the ground to advance the boundaries of human knowledge, assisted by technology that pushes our current research horizons far beyond the existing limits. This experiment produces abundance of data. I was enamored by this aspect and found it fascinating.

Shortly thereafter, I've joined PayPal, as a Lead Data Researcher. There, I was an integral part of fraud prevention effort. The most exciting part of this role was enabling business and providing a seamless, trustworthy service to our clients.

My experience at SparkBeyond as a Data Scientist, Team Lead and Global Director of Applied AI, where I lead the data science and algorithmic research in many different use cases in a variety of business domains (such as media, energy, finance) have set the stage for my role at EverC. Here, I lead the team that is in charge of the heart of the Product, i.e., Machine Learning and Artificial Intelligence that allows our clients to operate in scale and EverC to be ever growing.
2. Why did you decide to join EverC?
What excited me the most about our operation is the human capital, my team is particularly awesome. EverC's goal is also inspiring; a cleaner trade. Secondly, our cutting-edge technology and the growth potential is amazing, and there's still a lot of magic to be done. Lastly, our data. We are sitting on super interesting data. The directions we can take the business are endless.
3. What is one thing you love about your job?
So many things. If I had to pick one, I think that it would be process of taking young professionals and allowing them to live up to their full potential. Checking in with former team members and learning that they are doing awesome things and knowing that you have a small part it their growth and success.

4. What are your passions outside of work?
First, my family. I have 3 amazing children. Second, I am a guitar player! You can occasionally find me rocking the stage with my band "Red and the Baldies" (pun definitely intended).

Thank you Raz, we are super excited to have you onboard! By the way, Raz is hiring, check out our career page here.