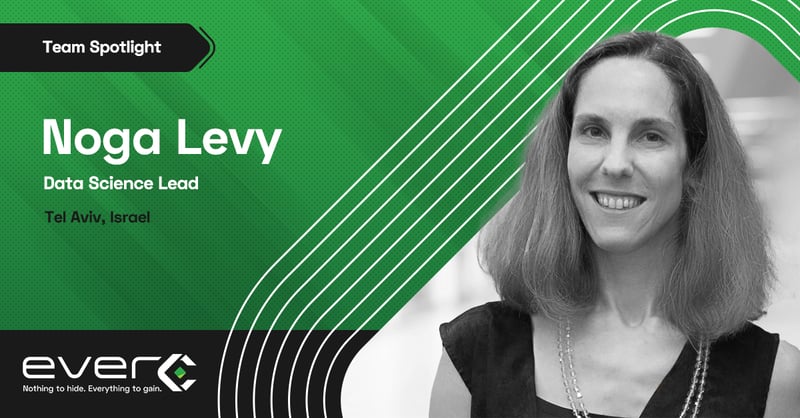 Let's get to meet Noga Levy – EverC's Data Science Lead and super-mom! We asked Noga a few questions to learn more about her passions and how she inspires young kids to get familiar with the computer science world.

1. Tell us about your career background and areas of expertise.
My passion for machine learning started early during my M.Sc studies when I took my first course on the subject. I was so impressed by the theoretical ideas and practical implications that this became the focus of my research during my studies and later on during my PhD.
I find it incredible that once you can describe real world images, sounds, text and so much more, using numbers, the learning models can find the underlying patterns, regardless of their origin. During my career I tackled issues of speech to text, music segmentation, user understanding for a digital personal assistant, and during the past few years I worked on computer vision tasks using deep learning algorithms.

2. What other extracurricular activities are you involved or interested in outside of work?
My family is my main out-of-work activity. I have three very energetic boys and a dog, so it is never boring in our home. I live by the beach and like spending time there with my family or taking walks with a friend. During COVID-19, when all indoor gyms and studios were closed, I just went to sea and did standup paddleboard pilates. Super fun!

3. What is one thing (could be work-related or not) that you are most proud of?
I would have to say it's bringing the computer science world to youth and kids from various backgrounds. During my PhD, I was a TA in the course "Computer Science in the Community". The participating students had the chance to introduce children with fundamental computer science principles such as binary numbers, sorting algorithms, encryption etc. We did this interactively through games, activities and riddles, and got great feedback from the participating kids.
This was an awesome opportunity for me to be part of a program that provides kids their first interaction with the CS world, and I hope it had an impact on them as well.
I had the honor of working with Prof. Benny Chor, the leader of this program, who recently passed away and I will forever be grateful for this opportunity.

4. What is the most exciting aspect of working at EverC?
I like that the tasks at EverC are varied and challenging and it is incredibly satisfying to see the immediate impact the AI team has on the product. I love the fun, startup vibe in the company – everyone is so friendly and the teams work closely and always look to help each other. Also, there is an impressive female representation in the company. This is very important, shouldn't be taken for granted and I hope this will just grow and broaden.

Thanks so much Noga, we are super excited to have you onboard! If you'd like to join the EverC team, check out our career page here.