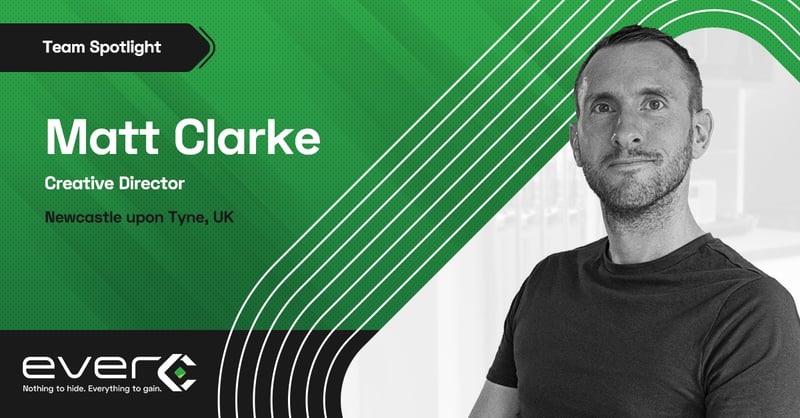 EverC's Creative Director, Matt Clarke, combines his passion for design and creativity with EverC's industry-leading tech products to create an impactful contribution to a safer online world. Want to hear more about how Matt actually prefers restrictions and stipulations over a clean creative slate? Wonder what he'd do with a new superpower? Jump right in!

1. Tell us about your career background and areas of expertise.
Since the earliest age I can remember, I've always been drawn to the fields of design, creativity and tech. I began my career working in digital entertainment and gaming, before moving on to B2B software and web apps. What I've realized over my career is that the projects and tasks that give me the most satisfaction are (weirdly) the ones with a lot of restrictions and/or criteria for success. Being creative with a blank slate is great but when the project requires you to fulfill numerous stipulations the sense of achievement when it is successfully completed is extremely satisfying. Because of this I've found that I naturally gravitate towards challenges in the B2B tech sector, especially those linked to advanced, industry-leading products - the stakes are high, the technology is complex, and the target audience is often very specific – this makes for some great projects and is where I really enjoy to direct my focus.

2. What is the most exciting aspect of working at EverC?
EverC has a suite of truly brilliant tech products and the vision for their growth is exciting – the data and insights that can be drawn through MerchantView and MarketView are eye-opening. It's exciting to be part of the passionate, global team taking that to market and truly contributing to making the internet a safer place.

3. If you could have dinner with anyone, dead or alive, who would it be and why?
I feel like I should probably choose someone inspirational from the past but really the best dinner guests for me would be my family; they're spread all over the world now so just having them all together, in one place, for a big meal with lots of chatter and jokes – that's the best meal I could think of.

4. If you could have one super-power, what would that be and why?
Hmm tough one.
When I was a kid there was a popular children's TV show in the UK called Bernard's Watch about a boy who finds a magic pocket watch that can freeze time. I think anybody who saw that show thought 'Wow that would be useful!' – it'd be great; sleep as much as you want, always get everything done in the day that you need to, make time for all the things you've been putting off – sounds brilliant to me.

5. What other activities are you involved/interested in outside of work?
I'm a father of two so I spend a lot of time with my kids taking them out in nature on walks, or going to museums and art galleries – I love seeing the world through their eyes and finding out what they think about new experiences. I'm also keen on hiking, in particular walking up mountains – when you spend a lot of time in front of a computer it's nice to balance it out with some wide open space and a good view.
Thank you Matt, we are so excited to have you with us! If you'd like to join the EverC team, please check out our career page here and connect with us.