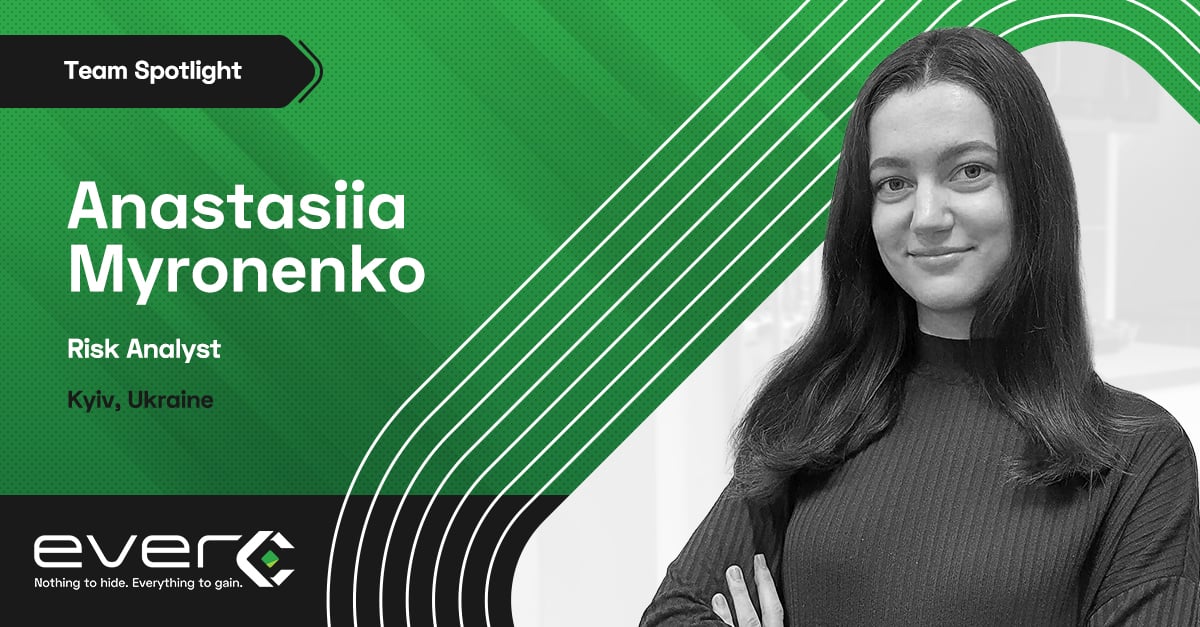 The lovely Anastasiia Myronenko has joined our Kyiv team as a risk analyst and we couldn't be more excited to have her onboard! She always knows how to put a smile on your face, and she constantly motivates her teammates to strive forward. Plus, she is a fantastic piano player.

We asked Anastasiia a few questions so that you can learn about her and her love for learning, growing and saving the world one day at a time.
1. What made you want to join EverC?
I wanted to join EverC because of my desire to grow in a dynamic fintech company, to engage in an important area of high activity, to prevent money laundering and financial crimes, and make the Internet a safe place. All that while using my financial background to improve the company's current performance. These aspects attracted and made me want to join EverC.
EverC is a fast-growing company with talented professionals who are experts in cyber and risk intelligence, and it is incredibly inspiring to work and be part of the family. I am drawn to professionalism and proactivity. These are two extremely important aspects to me personally and I was amazed to see that a lot of my colleagues – and even people who I haven't met yet in the company – share the same values as me.
Also, we are making the internet a safe place by catching "bad people" and since everything is actively moving online, we help make the whole world safer, a better place.


2. Tell us about your career background and areas of expertise.
Prior to EverC, I worked in the banking sector for more than 3 years, mostly working in a German bank. My main responsibility was the development of small and medium enterprises using bank financing and other banking instruments. My main area of expertise is financial analysis and risk analysis of small and medium enterprises.


3. Who has influenced you most when it comes to how you approach your work?
I am my own self motivator. I believe that we choose to work and approach it according to our values and interests. But I am also inspired by examples of successful people who have done something important for the whole world, and I would like to do something important and good as well.
Thanks so much Anastasiia, we are super lucky and excited to have you here!
Also, we are hiring! If you're interested in joining one of our teams and making the internet a safer place for business, check out our career page here.