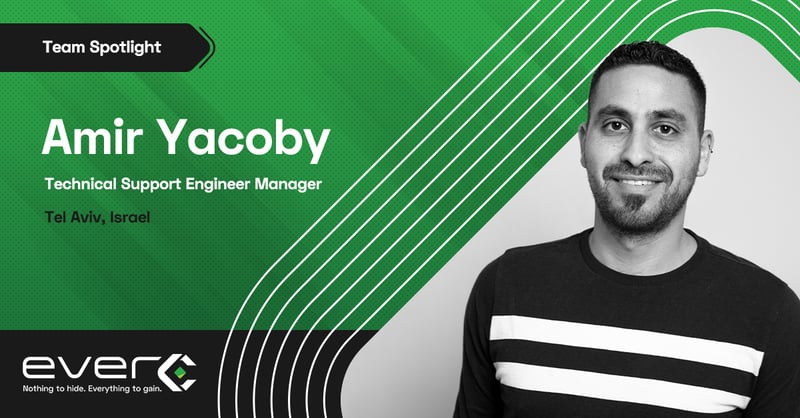 We're pleased to introduce Amir Yacoby, our newest addition to the technical support family. Amir is all about individual empowerment. He is always fun to be around, and he constantly encourages his team to reach new heights! Here are some questions we asked Amir to get to know him better.

Tell us about your career background and areas of expertise.
I am a Science and Computer Software Engineering graduate from Afeka Tel Aviv College. I started working for Check Point while in university and worked there for during my studies for 10 years before joining EverC. In my first few positions, I worked as a T3 and escalation engineer for Endpoint products before moving into management. Following that, I managed several different teams at Support (Endpoint/VPN T3/VPN T2) before becoming a Group Manager for VPN and Endpoint products.

Why did you decide to join EverC?
After 3.5 years as a Group Manager, I started to feel that I'm not learning anything meaningful in my current position. I need ongoing challenges to keep developing myself. I was looking for my next professional growth opportunity.


What is your favorite part about working for EverC?
I am most excited about the people with whom I work, as they are always super motivated, and we inspire one another.


Who inspires you and why?
Steve Jobs- He is one of the most motivated and driven entrepreneurs of all time! Apple was his dream and he always found ways to encourage his colleagues to achieve extraordinary results.
What do you like to do on your days off?
Spend time with the kids, music, Netflix.
What is something about you that not many people know?
I got my A1 license with a friend just for fun (I had never owned a bike).


Thanks so much, Amir, we are super excited to have you on board! If you would like to join the EverC team, check out our career page here.